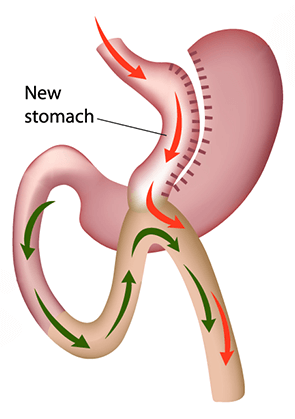 Laparoscopic/Robotic Mini Gastric Bypass which is also called as one anastomosis gastric bypass as well as omega loop gastric bypass or modified Billroth II procedure. In this the Gastric pouch is long, like a sleeve which is joined to the intestines, making a loop thereby finishing the procedure with only single anastomosis.
It has a theoretical advantage over RYGB in reduced chances of intestinal obstruction in long term follow up. The results of excess weight loss and resolution of co morbidities is similar to that of RYGB. This procedure is primarily a malabsorptive procedure as compared to the classical RYGB.
The patient has a better capacity and tolerance to quantity of the food but as it causes more malabsorption the frequency of stools may be increased. Post MGB, we have seen brilliant results in special subtype of our population.